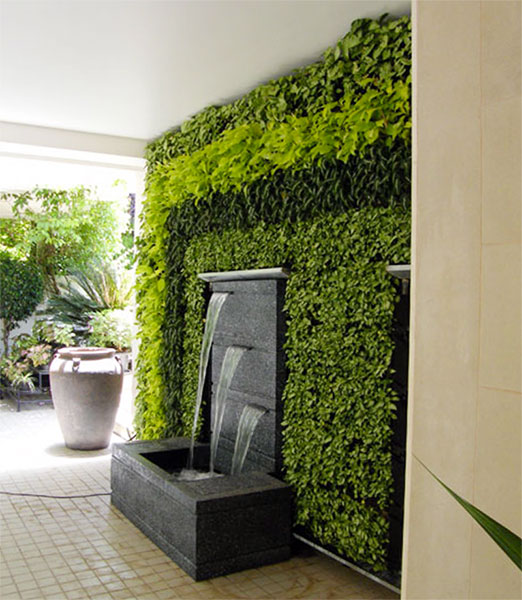 Green Wall or Vertical Gardens
refers to a wall that is partially or completely covered with plants. It can be categorized into green facades and Living Walls.
(EGI Living Wall System) is the most successful Green Wall system, it is lightweight and easy to install. This modular system has inbuilt irrigation and drain, and makes use of any kind of substrate, non-biodegradable EGI growth medium (hydrophilic substrate) so there is no need to water continuously. Panels are pre-grown before installation, so the wall is green on the first day of installation.
The EGI Living Wall System has revolutionized the landscape and green building industry.
Green Wall or Vertical Gardens - Product features
Modular system with LW panels of size 30cm x 30cm x 10cm
It can be installed to any size. i.e. height & width
It can be cladded to wall directly or fabricated structure
It can be installed on surface having slopes from 30 – 90 degrees
Installation on curved surfaces possible
Longevity enabled growth medium
Watering is not required to be done frequently
Built in irrigation system reduces maintenance
Basal system infrastructure is not seen
It easy to plant, install and maintain
Various planting options are available
Provision for illumination & mist irrigation through the panels
Ready effect from first day of the installation
Weight of Living Wall when fully saturated with water is around 7 – 8 kg per sq ft.
Read More